Daily Events Schedule

Exhibits open:
9:00am – 5:00pm (Tue & Wed)
9:00am – 4:00pm (Thur)
Northland Ford Truck Giveaway:
Truck given away Thursday at 2:00pm on WNAX radio.
Register for a chance to win at Northland Ford exhibit.
Where to Stay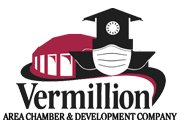 The Vermilion Area Chamber recommends these fine Vermillion area hotels. Please contact hotels directly for current nightly rates. For more information and to plan your visit to the Dakota Farm show, visit the Vermillion Area Chamber website.