Daily Events Schedule

Exhibits open:
9:00am – 5:00pm (Wed/Thur)
9:00am – 4:00pm (Fri)
Northland Ford F-150 Giveaway:
Ford F-150 given away Friday at 2:00pm on WNAX radio.
Register for a chance to win at Northland Ford exhibit.
SDSU Extension Seminar Schedule (2023 below. 2024 scheduled posted early December):
Wednesday, Jan. 4
Time
Topic
Session 1: Agronomy
9:00
Rye Basics
Brad Rops, Operations Manager, SDSU Extension
9:30
Tar Spot on Corn
Connie Strunk, Plant Pathology Field Specialist, SDSU Extension
10:00
Break
10:15
Insects of Concern in SE South Dakota: Soybean Gall Midge and Dectes Stem Borer
Phil Rozeboom, SDSU IPM Coordinator
10:45
Corn P and N Research Updates
Jason Clark, SDSU Extension Specialist — Soil Fertility
Session 3: Soil Health
1:30
Biological Agronomy
Anthony Bly, SDSU Extension Field Specialist — Soils
2:00
Soil Microorganisms Link Crop Management and Performance
Mike Lehman,  USDA Soil Microbiologist
2:30
Break
2:45
Till vs. No-Till; Long-Term Research at the Southeast Farm
Peter Sexton, SDSU SE Research Farm/Agronomy, Horticulture & Plant Science
Thursday, Jan. 5
Session 1: Livestock Management
9:30
Drought Management in Feedlot Operations
Warren Rusche, SDSU Extension Beef Feedlot Management Associate
10:15
Break
10:30
Turning Corn into Beef – Research Update
Zachary Smith, SDSU Assistant Professor – Ruminant Nutrition
11:15
Feeding Hybrid Rye to Grow-Finish Pigs
Caitlyn Sullivan, SDSU Student
Noon
Break
Session 2: Self-care & Community Vitality
1:00
Stress Management
Andrea Bjornestad, SDSU Associate Professor/Extension Specialist–Mental Health
1:50
Break
2:00
Agritourism Opportunities in South Dakota
Peggy Schlechter, SDSU Extension Field Specialist–Community Vitality
2:45
Afternoon session ends
Where to Stay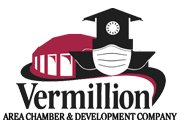 The Vermilion Area Chamber recommends these fine Vermillion area hotels. Please contact hotels directly for current nightly rates. For more information and to plan your visit to the Dakota Farm show, visit the Vermillion Area Chamber website.